CHINA MONEY NETWORK is the go-to source of information and intelligence for global investors looking to invest in the Greater China region. Started in 2011 as an investment podcast, it has developed into a Hong Kong-headquartered independent professional media company offering compelling services to investment institutions worldwide.
China Money Network's services include real time coverage of China's venture capital, private equity and institutional investment industries; a top-rated audio/video podcast featuring prominent China-focused investment managers; an alternative investment managers database; offline events connecting top investors, a Chinese language platform ZhongguoJinrongTouziWang.com, and other value-added services bridging global investors with China opportunities.
Over half of our audience access our content via mobile devices, using popular apps including iTunes, Blubrry, Youtube and social media platforms such as Twitter, Facebook and Wechat.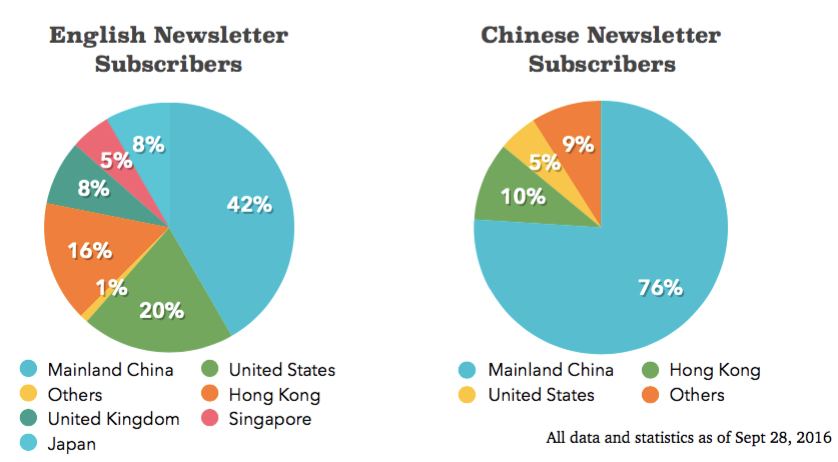 CHINA MONEY PODCAST, our weekly audio and video interview show is the top-rated China-focused program in the business category in the iTunes store. It has been frequently featured by the iTunes Store, and has hosted prominent guests including Jim Rogers, Howard Marks, Tim Draper and Marc Faber, and many others. To see a complete list of our featured guests, click here.
Watch a brief introductory video below:
OUR MANAGEMENT TEAM:
Nina Xiang: Executive Editor

Before co-founding China Money Network, Ms. Xiang worked at BusinessWeek magazine in Beijing and Institutional Investor magazine in New York. At Institutional Investor magazine in New York, she covered investment banks, private equity and hedge funds.
While in New York, she also served as part-time correspondent for Shanghai's financial television channel, China Business Network, as well as China Radio International, China's national English-language radio network.
Ying Gu: Chinese Editor
Jillian Yue: English Editor

Wendy Wang: Director of Sales & Marketing
WHAT'S NEW:
April 15, 2013: China Money Network Expands Top-Rated Coverage Of China's Investment Opportunities
August 31, 2012: China Money Network Launches Chinese Language Website Today
February 7, 2012: China Money Network's Latest Episode Shows Investors Are Still Bullish On China
November 25, 2011: China Money Network Features Jim Rogers As Guest
IMPORTANT DISCLAIMER:
The views, opinions, forecasts, and statements made by our hosts and guests are the personal views of those respective individuals and may or may not be either endorsed or accepted by China Money Network or the companies with which these individuals are employed. All views expressed in the programs or on the website are for educational and informational purposes only, and are not intended as investment advice you should be utilizing without the expert support of investment advisers.
While this site does not usually endorse or recommend any commercial products, services, company stocks, or investments, this website and its podcast episodes may from time to time accept advertising and sponsorship. The use of any trade, firm, or corporation name is for the information and education of the listening public, and the mention of any of the above on the site does not necessarily constitute an endorsement, recommendation, or favoring by China Money Network. In the event we discuss a product from a sponsor or advertiser on our audio and/or video episodes, we will clearly state that it is a sponsor or advertiser. Any use or purchase of the product by the listener and/or viewer is done in accordance with the terms and conditions provided by the sponsor or advertiser, and China Money Network relieves itself of all liabilities associated with use, abuse, purchase or demonstration of a product or service affiliated with a sponsor or advertiser.